Betsafe esport
Betsafe is an "all around" sportsbook that offers a great variety of different betting alternatives. Lately they have been putting more and more focus and effort into esport betting. Betsafe has launched a dedicated esport lobby and they make regular updates to stand out from the competition within esport betting.
Betsafe has long been a casino brand that targets men aged around 18-35, they focus a lot on their brand to appeal to this target group and has tailored their design and promotions accordingly.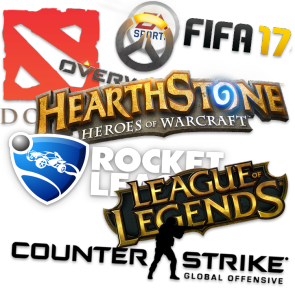 Esport games available for betting
Betsafe offers a quite wide range of esport games for betting. A popular game missing is Heroes of the Storm (HOTS) but besides that, most popular games are available.
Here is a complete list of esport games offered at Betsafe:
Bonuses
If you like bonuses as much as us, you will appreciate Betsafe's generous bonus offers! When you make a deposit for the first time, Betsafe matches your first deposit with a 100% bonus. This means that if you deposit $100 you will get another $100 in bonus, so you will have a total of $200 to bet for!
As on many other online gambling sites, your bonus usually has a wagering requirement. The wagering requirement for Betsafe's bonus is 6x the amount when playing in their sportsbook section, the bets must have at least 1.80 in odds.
The minimum deposit you have to make to take part of the bonus is $10. This offer is only valid for those who have not yet registered an account.
Click here to activate your deposit bonus
History of Betsafe
It was in 2006 Betsafe first launched their online gambling platform. The idea was to stand out from other betting sites with a tougher and more bad-ass approach with their brand. This image would appeal to the cooler and more rebel like audience that also would be mainly men. The year after launching sports odds, they also added online casino to the platform along with online poker.
Sometime after launching they started to invest more in events like Gumball 3000 and poker tournaments to expand their brand further. Since then, the brand has grown tremendously and Betsafe is today one of the major brands within the gambling industry.
Mobile Experience
The mobile experience on Betsafe is good, you can easily navigate through both the mobile application for Android or iOS depending on which mobile you own.
From your smartphone, you can get quick access to results as well as you can easily add new bets without having to go to your PC.
You also have access to the mobile casino through the app. Within the online casino you have the opportunity to play hundreds of different games with great mobile experiences.
Live betting for esports
Unfortunately, there is no possibility for livebetting through live-stream at Betsafe yet. It is speculated that it will be launched in the future.
Live betting is offered at other sports such as football and ice hockey so hopefully it will also be included for esport. With any luck, their priorities will change as e-sports continues to grow.
Securety and safety
Betsafe does a great job when it comes to security by keeping your information encrypted on the website and in their app for smartphone users.
They never disclose names of people who play on their platform in order to keep you protected. So those who play won't have to worry about their account information falling into wrong hands. 
When you need to get in touch with support you have the usual contact alternatives as seen on most gambling sites. You can choose to call and talk with the support by phone, email or write in their live chat which you find on the bottom of the site under the tab "chat".
While on the chat you will be treated by a friendly support that usually responds to your questions within 1 minute. There is also a contact page that you can access at the bottom of the homepage where you will find answers to frequently asked questions about withdrawals and account information.
Questions about bonuses and sales requirements should be brought to the support.
Contact the support on Betsafe by using any of the details listed below:
Phone: 0200 89 54 70
E-mail: [email protected]
You can find chat on the start page on the right side of the menu.
You will find the most common payment methods at your disposal for making deposits and withdrawals at Betsafe.
Deposits go directly into your account without any delay. Withdrawals may vary depending on volume, if you made a big win and you're going to make a withdrawal over $10,000 it will take longer than a $300 withdrawal.
As with many other gaming companies you will need to verify your personal information when making a money withdrawal from your account. This is often referred to as KYC (know your customer). If you want to know more about this process, we recommend going to their contact page and read the frequently answered questions about withdrawals.
List of payment methods offered at betsafe:
Bank wire
Trustly
MasterCard
EuroPay Card
Entropay

VISA
Maestro
Skrill
NETELLER
Paysafecard
Summary
With a strong and popular brand that also appeals to many esport fans, we think Betsafe is a great option for esport betting.
They offer betting for many (but not all) of the popular games. The most important thing in the end is that they offer your favorite game, and as esport is growing, more games will be added!
Good deposit and withdrawal options
Strong and popular brand
Experienced and professional support
Great bonuses and promotions