EGB
This operator goes all in when it comes to esport. Unlike other traditional sportsbooks such as Betway or bet365, EGB focuses exclusively on esport betting. This means that they can offer a stronger esport experience and better bonuses for esport related gambling as it is their only focus.
For those who are only interested in e-sports, EGB is the definately one of the best options along with GGbet and Arcanebet. But if you also want the opportunity to bet on other sports or play casino then we recommend to check out esport at Betway.
Apart from a great betting experience, EGB also offers one of the most generous welcome bonuses of all sportsbooks. They will match your first deposit 100% up to $600.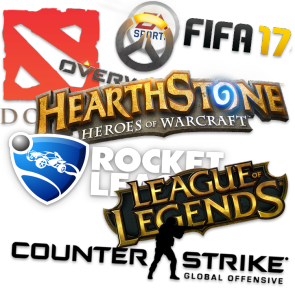 Esport games available for betting
EGB has a very wide range of esport betting options. There are almost no esport game that you won't find. EGB delivers all the popular esport games on their site.
Here is a list on games you can bet on at EGB:
World of Tanks
Smite
Rocket League
Quake
Bonuses
As a new player, you get a very good bonus at EGB, with your first deposit you receive a deposit bonus of 100% up to $ 600, which corresponds to approximately £427.
So if you make a deposit of $ 300 you will get $ 300 extra in bonus!
This bonus offer is one of the best available for esport betting. So if you have not used this bonus, we recommend creating an account to at EGB.
Claim bonus here
History
The renowned esport betting company was founded in 2011 with the intention of providing the best esport betting experience. EGB is today one of the few sportsbooks that have chosen to exclude traditional casino games and poker as a part of their platform.  This is the opposite to gaming companies such as Betway and many other gaming companies.
EGB is not only a website that offers esport betting, they also participate in sponsoring various events and tournaments within the esport. So when you bet on esport at EGB, you know that a part of the sum goes back to the esport industry, benefiting the community.
Safety
EGB maintains a high level of security on the website by using encrypted SSL like many other betting sites. In addition to this, there is also good feature for resetting the password if it should be lost or to avoid getting your account stolen.
Remember to never share your password to anyone in order to avoid getting your account and its funds stolen. Should you lose the password for your account, it is advisable to first notify the support and then reset the password.
Live betting
When you log in to your account on the website you will first get greeted with the most popular streams that are being watched by the most viewers. This can range from smaller cups to major tournament games.
What games you can follow through the streams vary depending on the popularity of the game, i.e there are not as many games being streamed for Rocket League as CS GO. Livebetting is available for many games but is still limited, you can live bet on all games, but you can count on exceptions for bigger games. You will also be notified when there is special betting options via their website.
Mobile experience
When you want to access your results fast, you'll be faced with a simple but clear navigation on your mobile. The platform is available via Android mobile as an application, which enhances the experience even more.
You can easily review game results, check streams, deposit or withdraw funds from your mobile. For those who want to access betting results in your pocket, EGB works excellent.
support
If you encounter problems or have questions about a bonus offer, you will quickly help from EGBs support. They have a professional tone, a customer-focused mindset and treat you well as a player. You have the opportunity to chat, call or email the support. You reach them 24 hours a day, but you may have to wait up to 12 hours for a reply after sending an email.
Contact information for EGB support:
Phone: +506 40 003944
E-mail: [email protected]
Chat is accessed by the contact page and then clicking "Support online".
Payment methods
When doing transactions at EGB, you will have enough options to choose from to find a method that suits your needs. You can either use an online wallet like Skrill or use a regular VISA card for deposits and withdrawals.
There are currently no fees for making withdrawals but we recommend double-checking this with the support for the payment method you will use.
Payment methods offered by EGB:
VISA
Maestro
Skrill
NETELLER
Paysafecard
Bitcoin

Alipay
Astropay
WebMoney
SMS
QIWI
EGB is one of the most well known and seen esport betting company around many esport events. The company is actively working with branding and keeps sponsoring various esport tournaments.
As a pure esport betting company, you get a powerful gaming experience when all the focus goes to esport. As a new player, you get a very generous bonus of up to $ 600 and they regularly send out new promotions and bonuses.
For those who are mainly interested in esport and have no interest for casino games, EGB is a great choice.
Focuses mainly on esports
Generous welcome bonus
Offers many esport games
Good livesteam